"
All Eyes On Me" (所有人都在看着我)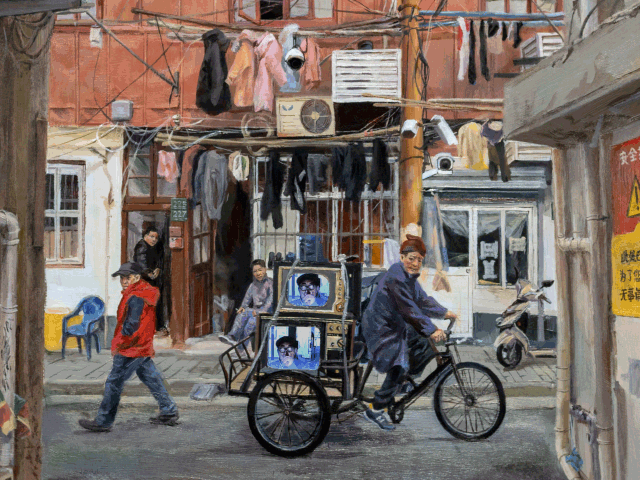 // BLURB //
Technology has been creeping into art for as long as it has life. It was inevitable really; imagine there were no smartphones, apps or internet today. Bad signals all round! Korean contemporary artist Nam Jun Paik saw it coming by describing the future of telecommunications as the "electronic super highway" in 1974. Paik could be considered as one of the original TV bingers (his art often consisted of arrangements of televisions as props). He was ahead of his time and Netflix would be proud. But what about when technology hits a tipping point and turns its eyes on the beholder? A little bit of tech never hurt nobody, you might think. But people are getting more and more paranoid about the rise of the robots lately. Maybe the human eye is worse. Who knows? It'd be great to pit Ai Weiwei's Video Surveillance Camera against the human eye behind the magnifying glass in Barbara Kruger's Small World. The result might look like something from American multimedia artist Tony Oursler. But don't worry yourself too much about technology. What Bruce Nauman's Video Surveillance will tell you is that there's light at the end of the tunnel.
STAT

US
SOLD
. Private collection, Dubai.
EDITION, MEDIA, SIZE & WEIGHT
Unique Edition, Shanghai 2020
TFT displays, CCD cameras, acrylic painting on Plexiglass, teakwood frame
46.5(W)×65.3(H)×5.5(D) cm // 9.4 kg
TECH SPECS
• 2×1/3" Sony SUPER HAD II CCD (HS1177) with OSD, 600TVL, 10 mm lens (INPUT DC5~22V)
• 2×TFT 2.4" LCD / (Board GD24TWD+ screen GTT24P138) - (INPUT DC12V)
• 2×MWLPV20-12 (INPUT 100~240VAC@0.55A / OUTPUT 12V@1.67A)
CRATE SIZE & WEIGHT
58(W)×78(H)×15.5(D) cm // 21 kg
EXPOSURE
"
Perimeters, Edges, and W

alls
" at island6 Shanghai Main Space
CREDITS
Weng Dongxiao 翁东晓 (painting) • Thomas Charvériat (art direction) • Yeung Sin Ching 杨倩菁 (production supervisor) • Ryan Watson (blurb)