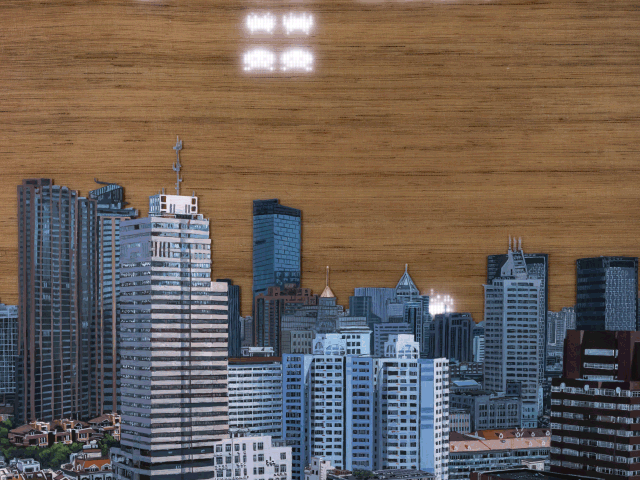 // BLURB //
There's  no big apocalypse. Just an endless procession of little ones.
 - Neil Gaiman
American rock band R.E.M. said it first, "it's the end of the world as we know it (and I feel fine)". Space debris comes flying down from the dark skies, ricocheting off skyscrapers, roofs, and towers like a trivial game of pinball. It's an invasion of epic proportions! Just like the Kessler effect, a theoretical scenario which explains a cascading collision of space debris, Space Invaders descend upon Nanjing Lu (南京路) row after row after row! An endless loop! Laser beams shoot from above creating a striking performance of explosions and bangs. Flashes of light fill the heavens like scattered stars (星罗棋布). As the chengyu suggests, spread all over the place like chess pieces on a board. GAME OVER!
It's the end of the world and what else can I say? I do feel fine.
STAT

US
SOLD
. Hotel collection, Haute-Nendaz, Switzerland
EDITION, MEDIA, SIZE & WEIGHT
Unique Edition, Shanghai 2021
RGB LED display, acrylic painting on Plexiglass, teakwood frame
120(W)×120(H)×5.5(D) cm // 43.2 kg
TECH SPECS
• 1×SLC SD Card
• 7×MWLPV-60-5 (INPUT 100~240VAC@1.2A / OUTPUT 5V@8A)
• 1×MWLPV20-5 (INPUT 100~240VAC@0.55A / OUTPUT 5V@3A)
• (14+1 spare)×RGB P5-1921-8S-HL1.0 / S210881
CRATE SIZE & WEIGHT
135(W)×135(H)×21(D) cm // 86.5 kg
EXPOSURE
"
Bit By Bit
" at island6 Shanghai
CREDITS
Wang Tie Zhong 王铁中 (painting) • Yeung Sin Ching 杨倩菁 (production supervisor) • Thomas Charvériat (art direction) • Tiara Alvarado-Leon (blurb)