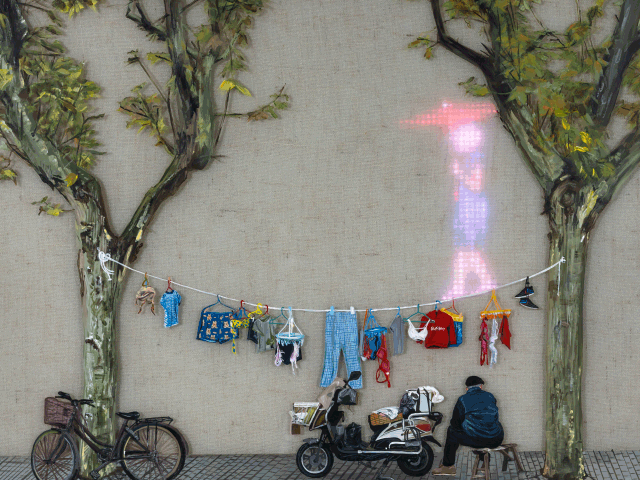 // BLURB //
"I think that I shall never see A poem lovely as a tree." - Joyce Kilmer, Trees & Other Poems
Between every two Faguo Wuton trees there is a door leading to a new way of life. Here we like to call it 
Haipai
 (海派) which literally translates to "Shanghai style". The rebellious, mutinous, and distinctive "East meets West" culture that is so ubiquitous to this hodge-podge of a city. The term's origins date back to 1920, coined by a group of Beijing writers to criticize this new cultural manner of paintings and dramas. And yet, over time its meaning has changed into one of the most darling styles in the country! Haipai is wearing those charming blue plaid pajamas out in public for everyone to see. It's the transformation of the traditional 
qipao
 (旗袍) into a shorter more fitted colorful garment! It's the treasured short stories we find in between Sinan and Fuxin Zhong Road. 
It is often said the ocean absorbs the flow of hundreds of rivers. This is the cherished way of living in Shanghai. Darling, you are a work of art!
STAT

US
SOLD
. Private collection, Salzburg, Austria.
EDITION, MEDIA, SIZE & WEIGHT
Unique Edition, Shanghai 2021
RGB LED display, acrylic painting on Plexiglass, Vietnamese linen embedded in hand cast resin, teak wood frame
65(W)×46(H)×5.5(D) cm // 9.85 kg
TECH SPECS
• 1×SLC SD Card
• 4×MWLPV20-5 (INPUT 100~240VAC@0.55A / OUTPUT 5V@3A)
• (3+1 spare)×RGB P4-1921-64X32-8S-M3 / SWP4210114MGJF-0490/196
CRATE SIZE & WEIGHT
81(W)×61(H)×22(D) cm // 21.15 kg
EXPOSURE
"
Bit By Bit
" at island6 Shanghai
CREDITS
Wang Chuanwen 王传文 (painting) • Camilla Zhao 赵莹 (performance) • Yeung Sin Ching 杨倩菁 (production supervisor) • Thomas Charvériat (art direction) • Tiara Alvarado-Leon (blurb)