"
Between The Blocks" (在街区之间)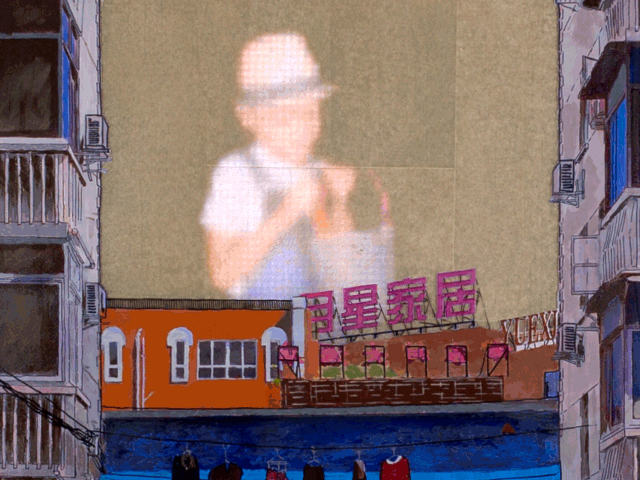 // BLURB //
The whisper of a paintbrush in motion is like music to my ears; the light squeaking of a mop is even better. Of all the big, blue-haired ayis who take care of this city, she's my favorite: the original, as it were. I have many fond memories of her. Sometimes, she would be cleaning the street, carefully working around the many pedestrians walking along Nanjing Road until each square centimeter was sparkling. Other times, her job would be higher, cleaning the tippy-top of the skyscrapers in Pudong or Jing'an. This isn't the bulk of what she does though. Most of her time she spends in less flashy parts of the city, cleaning amongst the people. You could say that she prefers to stay between the blocks, out of sight but not out of mind, vigilant, always cleaning. Personally, I hear her more often than anything. Dusting. Scrubbing. Doing the work we all know needs done. Her constant care makes this city shine, recontextualizes it the same way good art can turn an experience into a community.
STATUS
SOLD
. Private Collection, Singapore.
EDITION, MEDIA, SIZE & WEIGHT
Unique Edition, Shanghai 2019
RGB LED display, acrylic painting on Plexiglass, paper collage, teakwood frame
47(W)×66(H)×5.5(D) cm // 10.48 kg
TECH SPECS
• 1×SLC SD Card
• 4×MWLPV20-5 (INPUT 100~240VAC@0.55A / OUTPUT 5V@3A)
• 3×RGB P4-2525-8S-HL1.0 / D180526
CRATE SIZE & WEIGHT
61(W)×80(H)×20(D) cm // 25.2 kg
EXPOSURE
"
Who Needs Men Anyway?
" at island6 Shanghai Main Space​​​​​​​
CREDITS
Owen 欧文 (painting) • Zoé Charvériat-Young 杨素儿 (performance) • Yeung Sin Ching 杨倩菁 (production supervisor) • Thomas Charvériat (art direction & animation) • Carlin Reinig (blurb)