"
Blinks and Blares" (眨眼和刺耳声)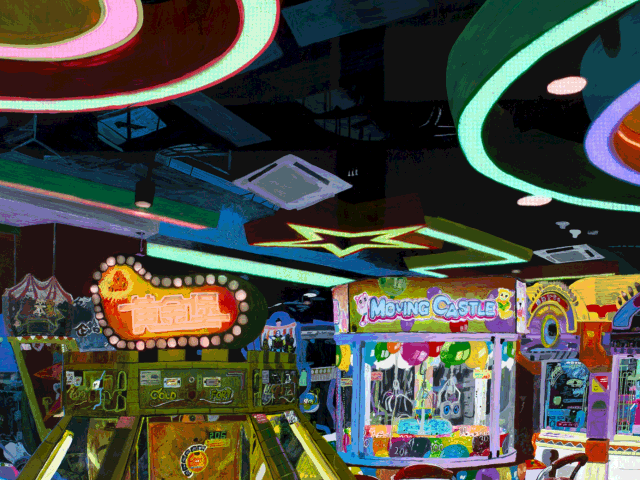 // BLURB //
Shel Silverstein led one of the most interesting lives that has been lived in the last century. A college dropout, artist, and writer, one might have expected to find him waiting tables or washing toilets. Instead, he was a soldier, a cartoonist and columnist for playboy, and a playwright before becoming a beloved children's book author. He didn't get there using alliteration… but agreeably for almost anyone, he used it after. One poem in particular is the anthem of our age: Standing is Stupid. In this poem, he argues that physical activity is useless and that instead we should spend our time lying down (truly he was ahead of his time). After taking his advice, lying and thinking for what felt like a lifetime, the little mysteries have become elucidated: it's all in the lights. Those bright lights, those flashing lights—those that make us turn our heads and hold position with mouths hanging open. They're just…so Shanghai, and their movement almost makes me forget where we are.
EDITION, MEDIA, SIZE & WEIGHT
Unique Edition, Shanghai 2019
RGB LED display, acrylic painting on Plexiglass, paper collage, teakwood frame
102(W)×102(H)×5.5(D) cm // 29.8 kg
TECH SPECS
• 1×SLC SD Card
• 2×MWLPV20-5 (INPUT 100~240VAC@0.55A / OUTPUT 5V@3A)
• 4×ELN-30-5 (INPUT 100~240VAC@0.75A / OUTPUT 5V@5A)
• (9+1 spare)×RGB P5-2525-8S-HL1.0 / D180565
CRATE SIZE & WEIGHT
116(W)×116(H)×20(D) cm // 65.5 kg
EXPOSURE
"
Who Needs Men Anyw

a

y?
" at island6 Shanghai Main Space​​​​​​​
CREDITS
Wang Tie Zhong 王铁中 (painting) • Yeung Sin Ching 杨倩菁 (production supervisor) • Thomas Charvériat (art direction & animation) • Carlin Reinig (blurb)