"
Car Jacking Above Dagu Lu" (南北高架大劫车)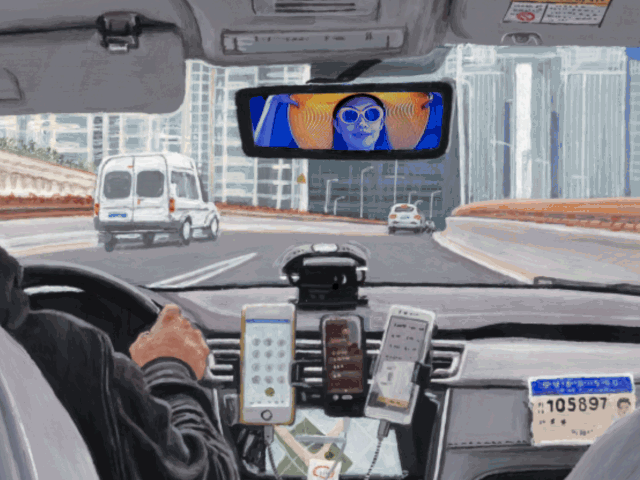 BLURB
To see oneself with honest eyes, that right there, is the philosophy of self. The study of what makes you different than everyone else. Lao Tzu (老子) believed true introspection was the key to becoming who you were meant to be. In order to do so, we must first let go of what we are. Look inwards. The goal of philosophy according to Socrates was to know thyself, meaning one's own character and thus creating self-awareness. Avicenna's famous "floating man" thought experiment describes how the idea of the self is not dependent on any physical thing. It's all your self-consciousness! And yet Daniel Dennett's theory is quite interesting, believing the self is a kind of convenient fiction. As people try to make sense of their world, they tell stories featuring a main character, who in his belief happens to be the self.
But what do I know? These are just thoughts that come to mind when I'm stuck on the gaojia (高架). Maybe you should try it sometime, go on, take a good hard look at yourself. What do you see?
EDITION, MEDIA, SIZE & WEIGHT
Unique Edition, Shanghai 2021
TFT display, CCD camera, acrylic painting on Plexiglass, teakwood frame
51.2(W)×51.2(H)×5.5(D) cm // 7.5 kg
TECH SPECS
• 1×1/3" Sony SUPER HAD II CCD (HS1177) with OSD, 600TVL, 10 mm lens (INPUT DC5~22V)
• 1×TFT 5" TFT LCD display with LED backlight - GDN-D567AT-GTI050NA-08C (INPUT 12V)
• 1×MWLPV20-12 (INPUT 100~240VAC@0.55A / OUTPUT 12V@1.67A)
CRATE SIZE & WEIGHT
65(W)×65(H)×18.5(D) cm // 21.5 kg
EXPOSURE
"
Full Throttle Ahead
" at island6 Shanghai
CREDITS
Wang Tie Zhong 王铁中 (painting) • Thomas Charvériat (art direction) • Yeung Sin Ching 杨倩菁 (production supervisor) • Tiara Alvarado-Leon (blurb)