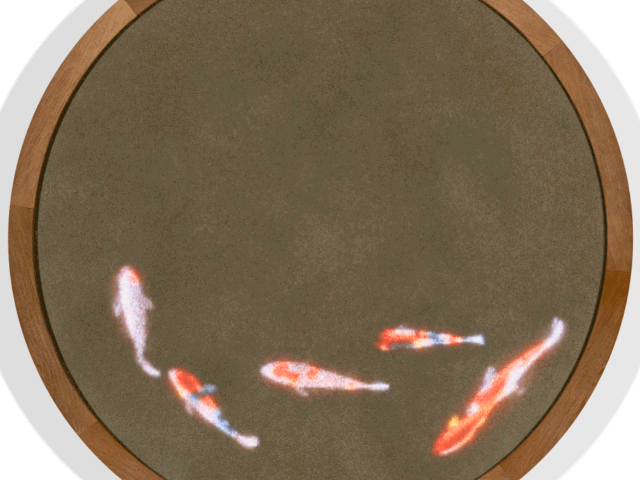 // BLURB //
In ancient and contemporary art, fish are symbols of transformation and permanence. Carp and Water Weeds by Yōgetsu, shows the heavy brevity that such pieces have; simple, the dual carp fish swim in a weedy pond while a Daoist poem floats above. Created in a tradition of master-pupil relationships, this piece is grounded in a commitment to incremental change. In Paul Klee's Fish Magic, he takes the fish out of water and puts them somewhere in between the Earth and the stars where time is waiting to be unveiled. He places the fish among flowers, suns, and faces, positing fish as a symbol of nonconformity possessing a transcendental ability against physical and psychical limiting factors such as space and time. This is congruent with Daoist rationality and inspires a conception of the limitless potential that comes with advanced technology. Damien Hirst's The Physical Impossibility of Death in the Mind of Someone Still Living sees him suspend a tiger shark in formaldehyde. This shows to his audience that preservation is a mental construct, that even the fastest and most powerful predators one day end. Hirst's piece is yet another congruency with Daoist notions of preservation and permanence by also indicating the preserving power that comes from the integration of computer systems with daily life.
STAT

US
Available. Please
CONTACT US
for inquiries. 
1/8 edition, private collection, Shanghai.
2/8 edition, private collection, Shanghai.
3/8 edition, private collection, Erlenbach Switzerland.
4/8 edition, private collection, Sherman Oaks, CA (USA).
5/8 edition, private collection, Miami, FL (USA).
6/8 edition, public collection, MS Rotterdam cruise ship.
7/8 edition, private collection, Los Altos Hills,CA (USA).
EDITION, MEDIA, SIZE & WEIGHT
7/8 Edition, Shanghai 2020
RGB LED display, sand & resin coating, teak wood frame
124.6(W)×124.6(H)×7.2(D) cm // 49 kg
TECH SPECS
• 1×SLC micro SD Card
• 7×MWLPV-60-5 (INPUT 100~240VAC@1.2A / OUTPUT 5V@8A)
• 1×MWLPV20-5 (INPUT 100~240VAC@0.55A / OUTPUT 5V@3A)
• (26+1 spare)×RGB P4-1921-64X32-8S-S1 / SWP4190826XMJF-0238/7112
CRATE SIZE & WEIGHT
138(W)×138(H)×24(D) cm // 99.1 kg
EXPOSURE
"
Perimeters, Edges, and W

alls
" at island6 Shanghai Main Space
CREDITS
Yeung Sin Ching 杨倩菁 (production supervisor) • Thomas Charvériat (art direction & animation) • Carlin Reinig (blurb) • Iris Gardener (production assistant)