"
Corina As Venus" (科里纳如维纳斯)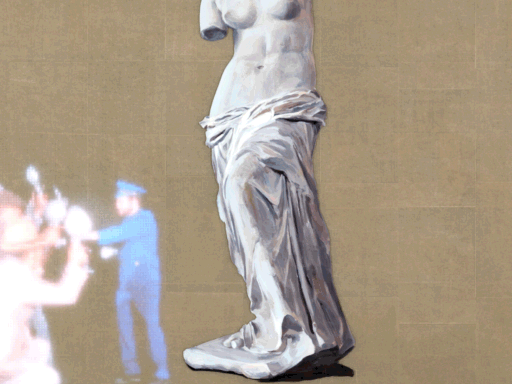 Let's look for truth. Since the beginning of human history there has been a special relationship between jewelry and proximity to power. The tribal leader wears the bear skin; the king wears the crown. Those in between? They wear all sorts of things: rings, necklaces, or bracelets to show that they are a part of the power structure, that they belong to the elite decision-making class. Jewelry, as an outward expression of power, helps to show us who's in charge and thus assists us in navigating more quickly and more efficiently the complexities that come with interacting with other human beings. The logic of the Dao De Jing might say that it's not all about the jewelry, but the people under it. Chapter 46 says, "Thus, knowing when enough is enough is really satisfying". A king doesn't become king because he's wearing a crown; rather, he's wearing the crown because he has become the king, right? Erasmus might disagree with "Vestis virum facit"; Hamlet's Polonius concurs: "For the apparel oft proclaims the man". Where's the truth then? Christianity's origin story tells of a beautiful garden and of naked, unashamed inhabitants. After original sin is taken in, what do they feel, amongst other things? Shame and the need to hide their nakedness. Maybe jewelry, like clothing, is a way to hide nakedness. Maybe it acts as a buffer against shame or as a key to knowing what is enough. Surely it is a powerful narrative force, capable of creation and re-creation over tens, hundreds, and even thousands of years. And where is the truth? Supposing the truth is a woman—what then?
STAT

US
SOLD
. Private collection, Phuket.
EDITION, MEDIA, SIZE & WEIGHT
Unique Edition, Shanghai 2019
RGB LED display, acrylic painting on Plexiglass, paper collage, black-stained teakwood frameframe
120(W)×120(H)×5.5(D) cm // 48.2 kg
TECH SPECS
• 1×SLC SD Card
• 9×MWLPV-60-5 (INPUT 100~240VAC@1.2A / OUTPUT 5V@8A)
• 1×MWLPV20-5 (INPUT 100~240VAC@0.55A / OUTPUT 5V@3A)
• (28+1 spare)×RGB P5(2727)-3232-8S-V1.0 / BF181203-HS​​​​​​​
CRATE SIZE & WEIGHT
135(W)×135(H)×21(D) cm // 91.7 kg
EXPOSURE
"
Perimeters, Edges, and Walls
" at island6 Shanghai Main Space​​​​​​​
CREDITS
Gao Lei 高磊 (painting) • Thomas Charvériat (art direction & animation) • Yeung Sin Ching 杨倩菁 (production supervisor) • Iris Gardener (production assistant) • Carlin Reinig (blurb & performance)