"
Croquette Club" (可乐饼俱乐部)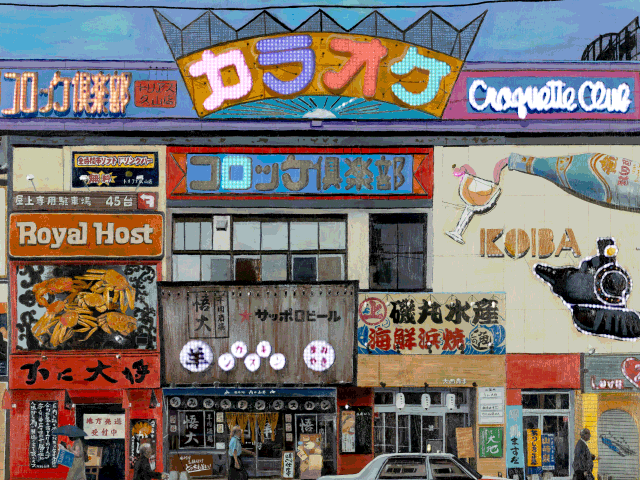 // BLURB //
Come to think of it, whenever you see a neon sign or billboard, there's usually something interesting going on nearby. Some kind of product or service is being promoted and whether it's a motel, meal, or massage, it's a great way of advertising, especially at night! Why the hell wouldn't you want your name up in lights if you're a brand or business looking for exposure? We naturally associate neon with excitement and it's been used to illuminate the glittering careers of artists such as American Dan Flavin. His florescent light sculptures through the 1960s and 70s have left many an audience beaming. James Turrell's immersive work like his 1968 ALTA Pink pyramid artwork have also inspired. Both had a minimal approach when it came to working with light and in the beginning, Keith Haring's stuff didn't even need to be bright for it to shine. The squiggles and dashes on his chalk drawings were enough for them stand out in NYC subway stations. Pieces like Radiant Baby then came to life in color taking things beyond black and white. Overlapping art and collages are also powerful in terms of sign reading. Barbara Kruger mastered a style with her blocky text aimed at consumers with words like "The future belongs to those who can see" and "I shop therefore I am". Her eye-catching work is iconic for its unmistakable colors and identity which make it unique and memorable leaving plenty to consider. At the same time as attracting onlookers' attention in the moment, neon signs and billboards often spark the imagination to think of faraway destinations such as desert islands and retro sunsets. Mixed messages, maybe, but enjoy the show!
STAT

US
SOLD
. Private collection, Paris (France).
EDITION, MEDIA, SIZE & WEIGHT
Unique Edition, Shanghai 2020
RGB LED display, acrylic painting on Plexiglass, teak wood frame
102(W)×102(H)×5.5(D) cm // 36.7 kg
TECH SPECS
• 1×SLC SD Card
• 1×MWLPV20-5 (INPUT 100~240VAC@0.55A / OUTPUT 5V@3A)
• 6×MWLPV-60-5 (INPUT 100~240VAC@1.2A / OUTPUT 5V@8A)
• (12+1 spare)×RGB P5-2525(RGB20)-64×32-8S-M1 / D190483
CRATE SIZE & WEIGHT
115(W)×115(H)×18(D) cm // 58.6 kg
EXPOSURE
"
Perimeters, Edges, and W

alls
" at island6 Shanghai Main Space
CREDITS
Weng Dongxiao 翁东晓 (painting) • Thomas Charvériat (art direction & animation) • Yeung Sin Ching 杨倩菁 (production supervisor) • Ryan Watson (blurb)