"
Dao Of The Bush Sparrow" (灌木麻雀桃)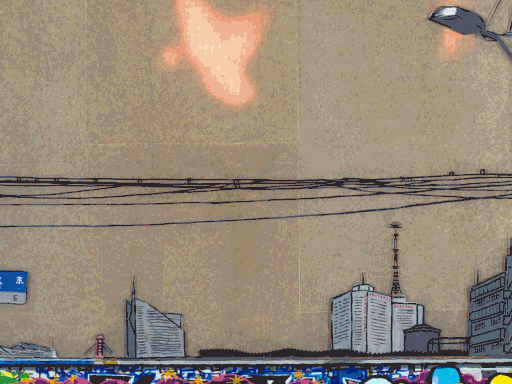 // BLURB //
Our world is made of equal and opposing actions and reactions. A butterfly flaps its wings in Canada and a hurricane begins to develop in the Pacific. A farmer tends to his field properly and feeds his village. A ball is dropped from a great height and bounces back again. However, the ball that is dropped never again quite reaches the point from which it was let go. Opposite reactions are not always equal in terms of energy externalized. In other words, something is lost with each go-round. We aren't living in a vacuum. When the ball falls, energy is staying in the ground. It seems that birds have figured out how to avoid this problem. They rest high above, only leaving their roosts if they must—to eat or avoid danger. The bush sparrow in particular has  a stunning elegance in the way it jettisons off the line to find some quiet. Like the delicate strokes of Wu Daozi, the bush sparrow whips off with clarity and precision, returning eventually as nature decides or when the coast is clear. Bush sparrows in cities today aren't much different from Wu Daozi's birds or his celestial beings; they're timeless reminders of the cyclical nature of experience.
STATUS
SOLD

.

Public Collection, Naumi Hotel, Singapore.
EDITION, MEDIA, SIZE & WEIGHT
Unique Edition, Shanghai 2019
RGB LED display, acrylic painting on Plexiglass, paper collage, sound sensor, 8-bit microcontroller, black-stained teakwood frame
51.2(W)×51.3(H)×5.6(D) cm // 9 kg
TECH SPECS
• 1×SLC SD Card
• 4×MWLPV20-5 (INPUT 100~240VAC@0.55A / OUTPUT 5V@3A)
• 3×RGB P4-L830-8S-1921V3.5 / D180526
• 1×MWLPV20-12 (INPUT 90~264VAC@0.55A / OUTPUT12V@1.67A)
• Arduino Genuino • DFROBOT Analog Sound Sensor V2​​​​​​​
CRATE SIZE & WEIGHT
65(W)×65(H)×18.5(D) cm // 21.5 kg
EXPOSURE
"
Who Needs Men Anyw

ay

?
"
at island6 Shanghai Main Space​​​​​​​
CREDITS
Owen 欧文 (painting) • Yeung Sin Ching 杨倩菁 (production supervisor) • Thomas Charvériat (art direction & animation) • Carlin Reinig (blurb)