"
Darwin's Angels" (达尔文天使)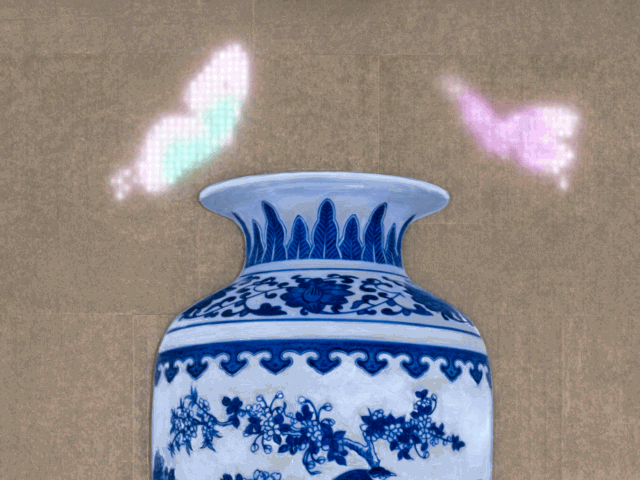 // BLURB //
Born approximately 2,300 years ago, Zhuangzi (庄子) or Master Zhuang, is perhaps best known as a Chinese forerunner of evolutionism and a pioneer of happiness. In his writings he describes the process of change from one species to another as follows, "...plants produce leopards and leopards produce horses and horses produce men. Men in time return again to the mysterious workings. So all creatures come out of the mysterious workings and go back into them again." In this way life is a cycle, always in motion. The sun rising in the morning, and setting in the evening, your heartbeat, breaths, thoughts, the seasons, birds migrating south for the winter, a continuous pattern. This is the way of nature - the Dao - and ultimate happiness comes from causing no disruption. Zhuangzi describes the practice of wuwei as the skill of going along with things, like butterflies soaring high, riding strong currents and staying aloft for hours.
STAT

US
SOLD
. Private collection, Issy-les-Moulineaux, France.
EDITION, MEDIA, SIZE & WEIGHT
Unique Edition, Shanghai 2020
RGB LED display, acrylic painting on Plexiglass, teak wood frame
51.5(W)×51.5(H)×5.5(D) cm // 9.45 kg
TECH SPECS
• 1×SLC SD Card
• 4×MWLPV20-5 (INPUT 100~240VAC@0.55A / OUTPUT 5V@3A)
• (3+1 spare)×RGB P4-L830-8S-1921V3.5 / D180526
CRATE SIZE & WEIGHT
65(W)×65(H)×18.5(D) cm // 21.5 kg
EXPOSURE
"
Bright Lights, Flashy Lifestyles
" at island6 Shanghai Main Space
CREDITS
Liu Yuqing 刘宇清 (painting) • Yeung Sin Ching 杨倩菁 (production supervisor) • Thomas Charvériat (art direction & animation)