"
Exit Through The Tea Shop" (出自茶馆)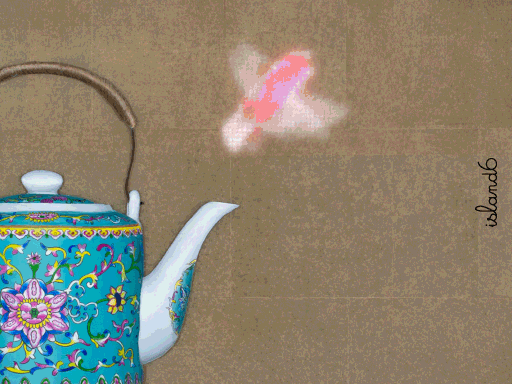 // BLURB //
If I tell you that Peranakans are Chinese descendants in Southeast Asia, you will go home and read about it. Maybe a ton of books, maybe just a Wikipedia article (or maybe not that). Next week you will dream that you are sailing across the ocean. In three months, your friends will ask about your trip to China, Singapore and Malaysia. You will tell them all about it, but you won't remember that it didn't actually happen that way, you just read about it here. This is the core of this whole "Hollywood is brainwashing you" thing. In fact, this phenomenon is called "source amnesia." It means we can't separate facts from reality. Things we learn are not stored in our brain but are constantly reconstructed from elements that are also used as building material for other memories and dreams too. In this state, context is often forgotten, memories are mixed with imagination, and facts become fictitious. In other words, our brains had been postmodern long before Jean Baudrillard got obsessed with simulacra, the symbolism we might live in being detached from reality. It's the victory of aesthetics, the manifesto of hyperreality.
STATUS
SOLD
. Private collection, Shaoxing City, Zhejiang Province, P.R.C.
EDITION, MEDIA, SIZE & WEIGHT
Unique Edition, Shanghai 2019
RGB LED display, acrylic painting on Plexiglass, paper collage, teakwood frame
66(W)×47(H)×5.5(D) cm // 9.75 kg
TECH SPECS
• 1×SLC SD Card
• 4×MWLPV20-5 (INPUT 100~240VAC@0.55A / OUTPUT 5V@3A)
• 3×RGB P4-L830-8S-1921V3.5 / D180526
CRATE SIZE & WEIGHT
81(W)×61(H)×22(D) cm // 24.4 kg
EXPOSURE
"
Who Needs Men Anywa

y?
" at island6 Shanghai Main Space​​​​​​​
CREDITS
Owen 欧文 (painting) • Yeung Sin Ching 杨倩菁 (production supervisor) • Thomas Charvériat (art direction & animation) • András Gál (blurb)