"
Kurisu Coin Laundry" (红莉栖自助洗衣店)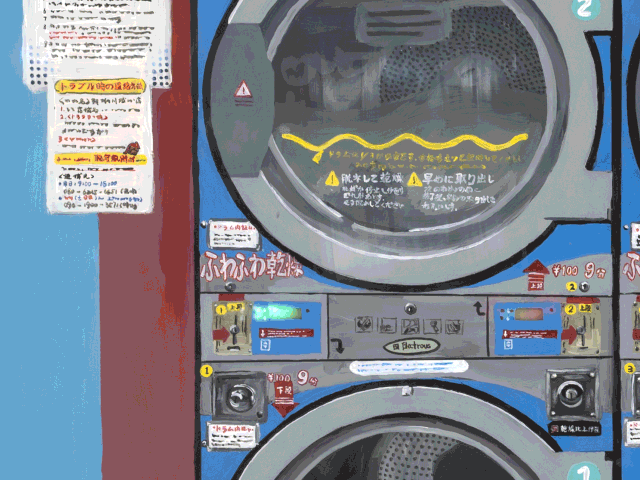 // BLURB //
The butterfly paradox
 is the idea that many of us are flawed in our desire to have the freedom and the beauty of the butterfly but are unwilling to be the caterpillar. It takes almost a full month for the small egg to complete metamorphosis and turn into the alluring butterfly. Some psychologists say that it takes 21 days to make a habit, and 90 days to make it a permanent lifestyle change. Philosopher Chuang Tzu once dreamt he was a butterfly, it was so incredibly vivid he felt the wind underneath his wings and he truly believed he had changed, but upon waking up realized it wasn't true. If only it were that easy, but it's a lot more than wishful thinking. Although Descartes would argue that if dreams feel real, who's to say they're not? 
While he is dreaming, he does not know it is a dream
, so therefore let's throw in another coin and keep on dreaming for one more spin cycle.
EDITION, MEDIA, SIZE & WEIGHT
Unique Edition, Shanghai 2020
RGB LED display, acrylic painting on Plexiglass, teak wood frame
120(W)×120(H)×5.5(D) cm // 43.2 kg
TECH SPECS
• 1×SLC SD Card
• 4×MWLPV-60-5 (INPUT 100~240VAC@1.2A / OUTPUT 5V@8A)
• 1×MWLPV20-5 (INPUT 100~240VAC@0.55A / OUTPUT 5V@3A)
• (14+1 spare)×RGB P5 KSL5-F-8S-V2.1 / D190832-1
CRATE SIZE & WEIGHT
135(W)×135(H)×21(D) cm // 86.5 kg
EXPOSURE
"
Bright Lights, Flashy Lifestyles
" at island6 Shanghai Main Space
CREDITS
Yuan Jiajie (painting) • Yeung Sin Ching 杨倩菁 (production supervisor) • Thomas Charvériat (art direction & animation)