"
Life Swings Like A Pendulum" (生命像钟摆一样摆动)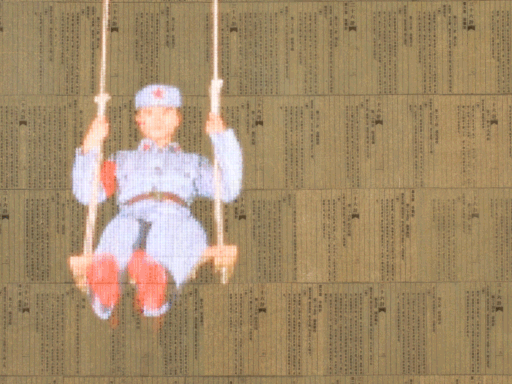 // BLURB //
Balance in human life is all about molecules. We are made of flesh and bones that represent 7x10e27 atoms that vibrate and bounce between one another. All these internal vibrations are surrounded by an environment. The atmosphere where you are living is composed of smells, colors, lights and lots and lots of sounds. Every time you hear something, your body reacts to the noise. Two different wavelengths meet at a certain time-space. This event can be pleasant or unpleasant. Each environment has its own sounds, and these overlapping environments are constantly competing for our attention. In our world along Moganshan Road where 1000 concrete trees are expected to spring up soon, you can hear the sounds of cranes, jackhammers, excavators, and empty spray-paint cans hitting the ground. Of course, you can see the buildings taking shape day-by-day, but something invisible is happening right here under your skin without anyone noticing – for now..
Some have found the answer to preserve themselves from this cacophony: practicing taiji in the small parks that border the Suzhou River or walking aimlessly down the side-streets of the French Concession. After all, finding your own balance is the only thing on earth that you can have a handle on.
STAT

US
SOLD
. Private collection, Shanghai.
EDITION, MEDIA, SIZE & WEIGHT
Unique Edition, Shanghai 2018-2019
RGB LED display, paper collage, teak wood frame
103(W)×103(H)×5.5(D) cm // 27.9 kg
TECH SPECS
• 1×SLC SD Card
• 5×MWLPV-60-5 (INPUT 100~240VAC@1.2A / OUTPUT 5V@8A)
• 1×MWLPV20-5 (INPUT 100~240VAC@0.55A / OUTPUT 5V@3A)
• (9+1 spare)×RGB P5-2525-8S-HL1.0 / D180565
CRATE SIZE & WEIGHT
115(W)×115(H)×18(D) cm // 59.2 kg
EXPOSURE
"
Perimeters, Edges, and W

alls
" at island6 Shanghai Main Space​​​​​​​
CREDITS
Yeung Sin Ching 杨倩菁 (performance & production supervisor)  • Thomas Charvériat (art direction & animation) • Iris Gardener (blurb)