"
Make My Skin Crawl" (鸡皮疙瘩)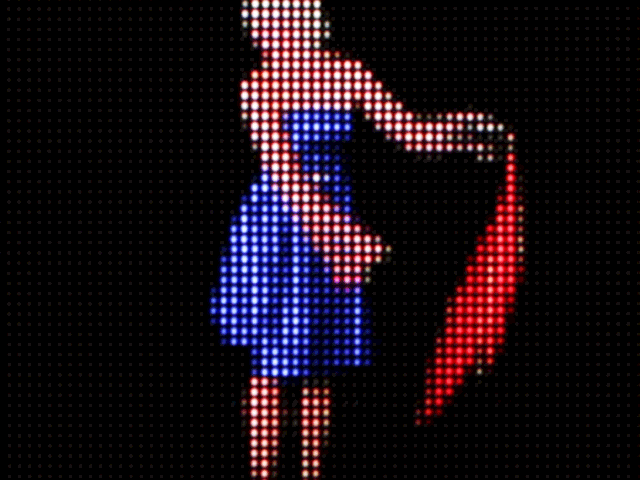 // BLURB //
Late 1930s Shanghai became a safe-haven and the land of hope for a group of aristocratic Russians fleeing their country after the fall of the provisional government at the end of the Russian Civil War. Their struggles to survive in a foreign land, barred from regular employment due to language difficulties, have been poetically documented in James Ivory's film 
The White Countess
, in which Countess  Sofia Belinskya works as a taxi dancer in a Shanghai bar. Whole families, in fact, ended up depending their mothers, daughters and sisters' meagre salaries as paid dance partners and sometimes prostitutes. Under its jazzy, jaunty, bright-coloured exterior, 
Make My Skin Crawl
 explores a seedy underworld of vice, debauchery and grim survival.
EDITION, MEDIA, SIZE & WEIGHT
Edition 1/8, Shanghai 2011~2021
RGB LED display, one-way glass, teakwood frame
39(W)×39(H)×6(D) cm // 6 kg
TECH SPECS
• 1×SLC SD Card
• 3×MWLPV20-5 (INPUT 100~240VAC@0.55A / OUTPUT 5V@3A)
• 2×RGB P5-2525(RGB20)-64X32-8S-M1 / D190483
CRATE SIZE & WEIGHT
57(W)×57(H)×19(D) cm // 17 kg
EXPOSURE
"Sin City - Impressions of Shanghai" at Tally Beck Contemporary Gallery, NYC
"
Full Throttle Ahead
" at island6 Shanghai
CREDITS
Lady Blue (performance) • Yeung Sin Ching 杨倩菁 (production supervisor) • Thomas Charvériat (art direction & animation) • Loo Ching Ling 吕晶琳 (blurb)