"
My Lucky Yingbi" (我幸运的影壁)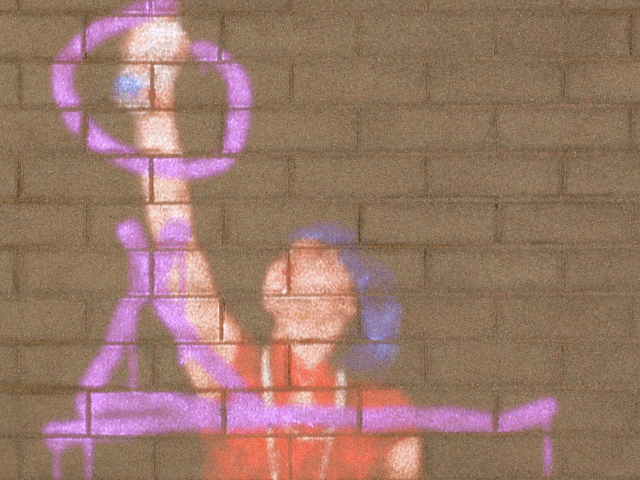 // BLURB //
How do we defeat our pasts and understand the spectres of bad decisions and worse luck? In the West, we've turned fully and whole heartedly to civil religion. We hope and pray to our families, to our institutions, to our scientists. And they pay returns, giving us the means to achieve greatness, or at least some diluted form of it. In traditional Chinese architecture, there was sometimes an extra wall, called a 
yingbi
placed in front of a building's entrance. Its purpose was to repel bad spirits and ghosts, to shield the inhabitants of the home from all that goes bump in the night. Spirits who tried to cross this boundary could not, as they preferred to move in straight, solid lines. Ancient Chinese trusted their walls, and loved their walls. 
Yingbi
were often ornately decorated with depictions of dragons, fish, birds, and other natural scenes. What might they have looked like in an age of aerosol paint, of love in a can? What bright pigment and holy forms would they have stuck to the surface?
STATUS
1/8 Edition

SOLD

,
Hotel collection, Haute-Nendaz, Switzerland
2/8 Available. Please CONTACT US for inquiries.
EDITION, MEDIA, SIZE & WEIGHT


8 Editions, Shanghai 2019
RGB LED display, acrylic bricks, sand & resin coating, teakwood frame
102(W)×102(H)×5.5(D) cm // 32.4 kg


TECH SPECS


• 1×SLC SD Card
• 5×ELN-30-5 (INPUT 100~240VAC@0.75A / OUTPUT 5V@5A)
• 1×MWLPV20-5 (INPUT 100~240VAC@0.55A / OUTPUT 5V@3A)
• (10+1 spare)×RGB P5-2727(6)-64*32-8S-HL3.0 / D180144


CRATE SIZE & WEIGHT


115(W)×115(H)×18(D) cm // 60.4 kg


EXPOSURE


"Perimeters, Edges, and

Wal

ls" at island6 Shanghai Main Space


CREDITS
Zhang
Tian Yi 张天伦 (performance) • Thomas Charv
ériat (a
rt direction & animation) • Yeung Sin Ching 杨倩菁 (production supervisor) • Carlin Reinig (blurb)