"
Northward And Upslope" (北上坡)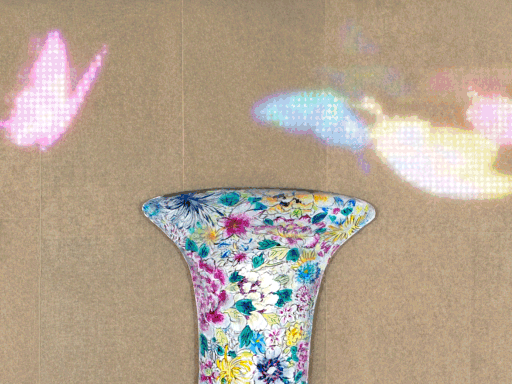 // BLURB //
When we hear the phrase "5,000 years of history", there are a few things that immediately come to mind. For example the uninterrupted Chinese time from Yao-to-Mao to today. However, one thing that does not immediately come to mind is the pumpkin, that strange North American gourd. But maybe it should come to mind. After all, they've been cultivated, eaten, and painted for about that long. Here's the deal about growing pumpkins though— there must be absolutely no risk of frost during their growth cycle. If the ground frosts, the pumpkins are lost and now you've got an empty field in a sunny spot. Yayoi Kusama's polka-dotted pumpkins and her personal story give us something similar. She understood the value of a sunny day and the need to avoid the deep frost. Like a butterfly, she floated into the artworld, brought along by the winds of change, and created the large, the mirrored, and the polka-dotted, sometimes all at the same time. Her pumpkins filled rooms and infinity rooms, for no greater reason than because they made her smile and she wanted to see more of them. That's as good a reason as any.
STATUS
SOLD
. Private collection, Shaoxing City, Zhejiang Province, P.R.C.
EDITION, MEDIA, SIZE & WEIGHT
Unique Edition, Shanghai 2019
RGB LED display, acrylic painting on Plexiglass, paper collage, teakwood frame
88.4(W)×88.4(H)×5.5(D) cm // 30 kg
TECH SPECS
• 1×SLC SD Card
• 3×ELN-30-5 (INPUT 100~240VAC@0.75A / OUTPUT 5V@5A)
• 1×MWLPV20-5 (INPUT 100~240VAC@0.55A / OUTPUT 5V@3A)
• (6+1 spare)×RGB P5-2525-8S-HL1.0 / D180648​​​​​​​
CRATE SIZE & WEIGHT
103(W)×103(H)×20(D) cm // 59 kg
EXPOSURE
"
Who Needs Men Anyw

ay

?
"
at island6 Shanghai Main Space​​​​​​​
CREDITS
Wang Tie Zhong 王铁中 (painting) • Yeung Sin Ching 杨倩菁 (production supervisor) • Thomas Charvériat (art direction & animation) • Carlin Reinig (blurb)