"
Porsche 356 Cabrio" 
Cross Dressed Travellers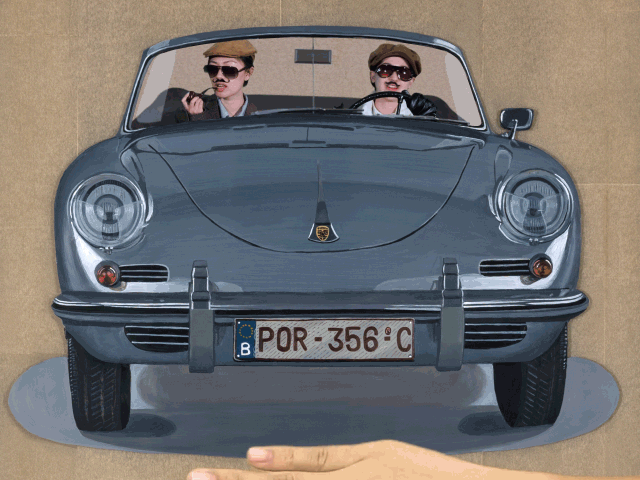 // BLURB //
Keys in the ignition, and the car roars to life.  I've got a Fuhrmann engine pushing 130 horsepower and that's all I've ever needed! They say it's a long way to find out who you are... I say forget about the destination! Relish the journey! The sound of the engine revving, rumbling, purring like a starving feline ready to pounce! Have you ever heard such delight? Lighting cigarettes. Street lights illuminating the way. I'm focused on what's ahead. Always. Speeding at 90 kmh a missed exit is an opportunity long gone. Zoom! Don't turn back, we're not going there! Keep your eyes on the road ahead. Always. Robert Frost took the road less traveled and "that has made all the difference". Personally, I don't care much for directions, state maps, or specific roads, as long as I'm out there. Can you hear the call of the open road? That's my only compass. Like celestial sirens, I'm lured to my doom. And it's one heck of a ride! Sure, there's nights when the wind is so cold but that's the price you pay for driving a Porsche 356 Cabrio with the top down, which is the only one to drive one by the way! What's the point otherwise? Charles Bukowski said the lucky ones were those stuck in their car "with their radios on as loud as possible as they try not to think or remember." And you know what, I do consider myself lucky. Let's take the road that leads to nowhere baby!
STATUS
SOLD
. Private collection, Ronse, Belgium.
EDITION, MEDIA, SIZE & WEIGHT
Unique Edition, Shanghai 2021
TFT display, acrylic painting on Plexiglass, paper collage, IR sensor, 8-bit microcontroller, media player, black-stained teakwood frame
52(W)×52(H)×6.5(D) cm // 9 kg
TECH SPECS
• 1×SLC MiCRO SD Card
• 1×LS424 media player • E3Z-D62 • Arduino Uno
• 12" TFT LCD display with LED backlight - TKUN JT1200 (INPUT 12V 4A)
• 1×MWLPV20-5 (INPUT 100~240VAC@0.55A / OUTPUT 5V@3A) 
• 1×MWLPV20-12 (INPUT 90~264VAC@0.55A / OUTPUT12V@1.67A)
• 1×ADP-48D12 (INPUT 100~240VAC@1.5A / OUTPUT 12VDC@4A)
CRATE SIZE & WEIGHT
65(W)×65(H)×18.5(D) cm // 21.5 kg
CREDITS
Wang Chuanwen 王传文 (painting) • Camilla Zhao 赵莹 (performance) • Tiara Alvarado-Leon (blurb & performance) • Thomas Charvériat (art direction & animation) • Yeung Sin Ching 杨倩菁 (production supervisor)
// ABOUT //
In "Cross Dressed Travelers" we see two women driving, when the sensor is triggered, we quickly noticed they are cross dressed as men! For this piece the art collective was inspired by the exhibitionist aspect of cross dressing and influenced by performance artist Chris Burden. On April 23, 1974, Burden was crucified shirtless onto the back of a pale blue Volkswagen Beetle. In "Trans-Fixed" (1974) Burden is literally transfixed to the Volkswagen car but at the same time he's calling on the audience to move beyond the state of transfixion and act! After all the goal of art is to entrance the viewer, but in "Cross Dressed Travelers" your participation becomes an important element to the overall experience.