"
Shichome Canteen" (拾丁目食堂)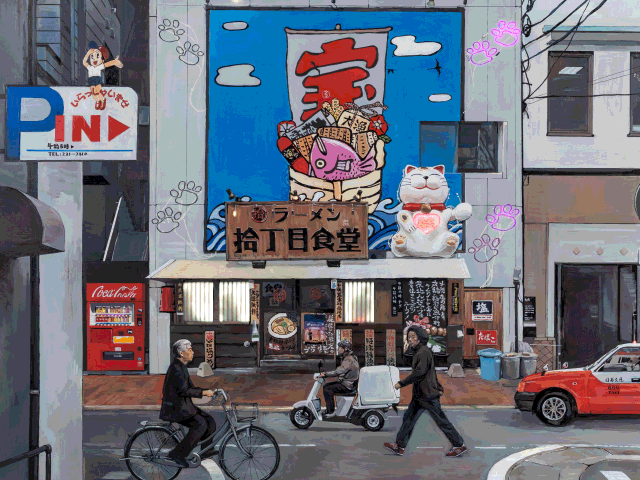 // BLURB //
There's always a light at the end of the tunnel, or in this case flashing neon paw prints at the end of the road. Whatever sign you thought you needed this is it. For centuries the Maneki-neko, also known as the Beckoning Cat, has enticed wandering spectators to the right entrance. Make no mistake there is nothing wrong with wanting to explore other possibilities. In fact, Confucian philosopher Mencius (孟子), would advise to not limit your options. Simply take a course of action, just start, and you can adjust as you go. And isn't that what life is all about? Trial and error, you may get lost, take the wrong turn, or the long way but ultimately all roads lead somewhere. As long as you keep moving eventually, you'll find the canteen at the end of the road. Let's just hope they don't run out of noodles! The question is, will you follow the mysterious cat's advice or keep roaming around aimlessly?
STAT

US
SOLD
. Private collection, London.
EDITION, MEDIA, SIZE & WEIGHT
Unique Edition, Shanghai 2021
RGB LED display, acrylic painting on Plexiglass, teakwood frame
120(W)×120(H)×5.5(D) cm // 43.2 kg
TECH SPECS
• 1×SLC SD Card
• 4×MWLPV-60-5 (INPUT 100~240VAC@1.2A / OUTPUT 5V@8A)
• 2×MWLPV20-5 (INPUT 100~240VAC@0.55A / OUTPUT 5V@3A)
• (9+1 spare)×RGB P4-1921-8S-V2.0 / SWP4210114MGJF-0490/196
CRATE SIZE & WEIGHT
135(W)×135(H)×21(D) cm // 86.5 kg
EXPOSURE
"
Bit By Bit
" at island6 Shanghai
CREDITS
Gao Lei 高磊 (painting) • Yeung Sin Ching 杨倩菁 (production supervisor) • Thomas Charvériat (art direction) • Tiara Alvarado-Leon (performance & blurb) • Camilla Zhao 赵莹 (performance)