"
South Bund Saunter" (在南外滩闲逛)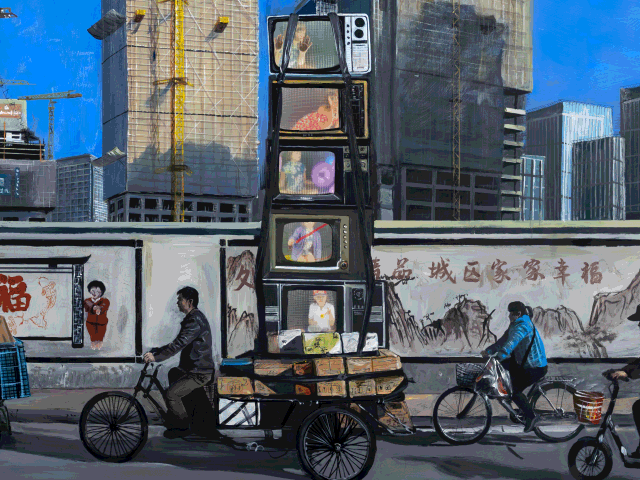 // BLURB //
Let's go to my favorite restaurant it's right around the corner of Duojia Road, and before you ask, I'll tell you what we're having for dinner tonight. Just sit back, and prepare for a feast for the eyes (and the mind!) We will begin with the hors d'oeuvre, small fried bits of curiosity served with a watchful hoisin dipping sauce. Our soup of the day is roasted inquisitiveness seasoned with evidence and just a dash of mala pepper. The main course is honey glazed playfulness with a side of jolly. For dessert we have chocolate covered creativity with a strawberry jelly filling. Do you prefer coffee or oolong tea? No need to rush, take your time ping ponging between the two. This is a new take on 'TV dinner' I hope you can appreciate the effort, not everyone can. Artist Nam June Paik was a firm believer in the power of television and was sure it could have a spiritual dimension. In what he called "Participation TV" (1969), creator and audience come together and can experience and create art that approaches a transcendent state, much like his work "TV Buddha" (1974), which intersects spirituality and technology. We interrupt your regularly scheduled programming to bring you this breaking news, dinner was absolutely scrumptious.
STAT

US
SOLD
. Private collection, Miami.
EDITION, MEDIA, SIZE & WEIGHT
Unique Edition, Shanghai 2020
LCD screen, acrylic painting on Plexiglass, paper collage, teakwood frame
120(W)×120(H)×7(D) cm // 42 kg
TECH SPECS
• 1×MICRO SLC SD Card
• 1×DELL SE2419H LCD screen
• 1×LS424 media player
• 1×MWLPV20-5 (INPUT 100~240VAC@0.55A / OUTPUT 5V@3A)
CRATE SIZE & WEIGHT
135(W)×135(H)×21(D) cm // 86.5 kg
EXPOSURE
"
Bright Lights, Flashy Lifestyles
" at island6 Shanghai Main Space
CREDITS
Wang Chuanwen 王传文 (painting) • Zoé Charvériat-Young 杨素儿 (performance) • Yeung Sin Ching 杨倩菁 (production supervisor) • Thomas Charvériat (art direction & video)