"
Sze Hing Canteen" (泗兴食堂)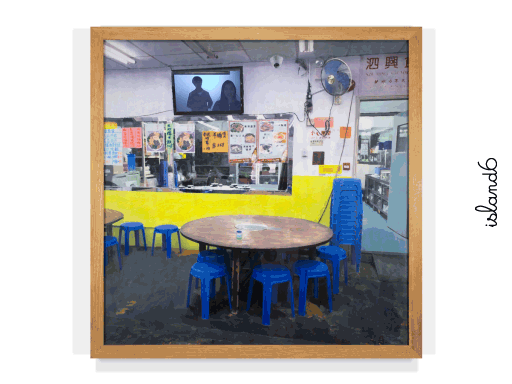 // BLURB //
Plunge in. That's what they tell you when you enter this fine dinery right next to the "Sweet&Sweaty Paradise" and the "Between Two Truck Drivers". Summer in Hong Kong can be overwhelming. It can make you feel hungry more than three times a day for hot shrimp wonton soup or crunchy pork skin. The dizziness you get because of not knowing whether it is sweaty or rainy, east or west, island or mainland is why you are here, we know. But if you don't know which way to start, just imagine you are running through Chungking Mansion, a sort of Mark Renton turned into the lovesick He Qiwu. The frames you watch the city through are blurry and bumpy, the voices broken, and the lights are flickering. Running away from… but you know better, running to see it all from a different angle or to arrive somewhere new. Maybe right here. I don't want to tell you what to do, but if you take my advice, you'll plunge right in. I'm not saying it's clean, but it's not that Trainspotting kind-of dirty either. Just slurp quietly. Remember, you are being watched.
STATUS
SOLD
. Private collection, Bloomfield Hills, MI (USA).
EDITION, MEDIA, SIZE & WEIGHT
Unique Edition, Shanghai 2018
TFT display, acrylic painting on Plexiglas, CCD camera, teakwood frame
102(W)×102(H)×5.5(D) cm // 33.3 kg
TECH SPECS
• 1/3" Sony SUPER HAD II CCD (HS1177) with OSD, 600TVL, 10 mm lens (INPUT DC5~22V)
• 10.4" TFT LCD display with LED backlight - TKUN JT104-HD (INPUT 12V 2.6-4A)
• 1×MWLPV20-5 (INPUT 100~240VAC@0.55A / OUTPUT 5V@3A)
• 1×DJ-U48S-1203 (INPUT 100~240VAC@1.5A / OUTPUT 12VDC@3A)​​​​​​​
CRATE SIZE & WEIGHT
115(W)×115(H)×18(D) cm // 58.6 kg
EXPOSURE
"
The Geometry Of Binary Life
" at island6 Shanghai Main Space
CREDITS
Owen 欧文 (painting) • Yeung Sin Ching 杨倩菁 (production supervisor) • Thomas Charvériat (art direction & technical guidance) • András Gál (blurb & documentation)