"
Taoist Temple Gate" (道寺门)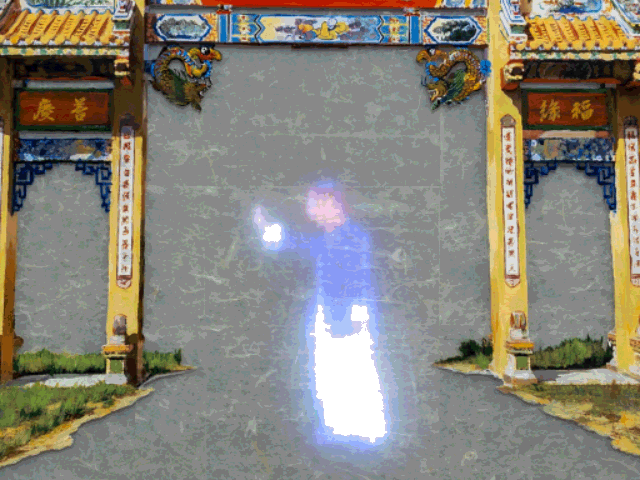 // BLURB //
"Trust in dreams, for in them is hidden the gate to eternity." – Khalil Gibran
What Khalil Gibran calls "the hidden gate to eternity", Sigmund Freud calls the "royal road to the unconscious". What we're really talking about here is somewhere between a royal road and a hidden gate. It's below the unconscious but above eternity. The Tao Te Ching says "Where the Mystery is the deepest is the gate of all that is subtle and wonderful." What is more mysterious than leaving for a new land? The opportunities, hopes, and (yes) dreams one has for his children far outweigh anything else in life. Chinese immigrants landing in Thailand in the 19th century had to be tough and resourceful. By avoiding certain death at home they had entered dark and mysterious waters. Only the strongest and most clever survived, moving up the social ladder: rickshaw puller, then cutting wood at the saw mill, then a vegetable gardener. Up, up, up…Those who failed died without much, but not without nothing: Freud said "Nothing that is mentally our own can ever be lost". What you hold in your head is forever yours: your wishes, dreams, and memories belong to no one else.
STAT

US
SOLD
. Private collection, Victoria (Australia).
EDITION, MEDIA, SIZE & WEIGHT
Unique Edition, Shanghai 2020
RGB LED display, acrylic painting on Plexiglass, teak wood frame
51.5(W)×51.5(H)×5.5(D) cm // 9.7 kg
TECH SPECS
• 1×SLC SD Card
• 4×MWLPV20-5 (INPUT 100~240VAC@0.55A / OUTPUT 5V@3A)
• (3+1 spare)×RGB P4-1921-8S-V2.0 / SWP4191102KMFF-0293/3260
CRATE SIZE & WEIGHT
65(W)×65(H)×21(D) cm // 23.15 kg
EXPOSURE
"
Perimeters, Edges, and W

alls
" at island6 Shanghai Main Space
CREDITS
Owen 欧文 (painting) • Zhang Shang Feng (performance) • Thomas Charvériat (art direction & animation) • Yeung Sin Ching 杨倩菁 (production supervisor) • Carlin Reinig (blurb)