"
Vibrant Dance With Others" (与伴共舞)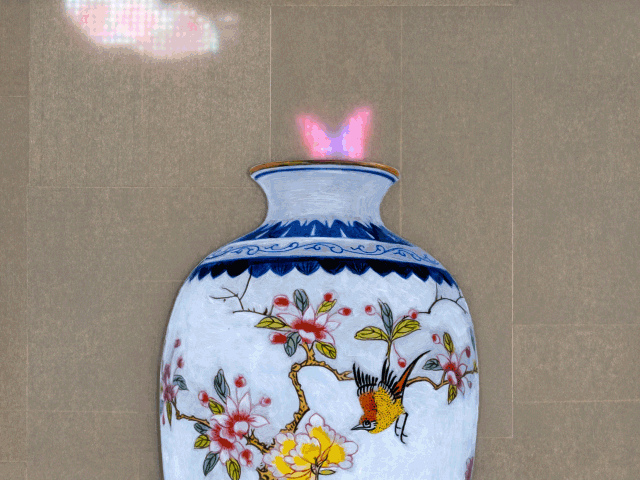 // BLURB //
Nature does not hurry, yet everything is accomplished.
— Lao Tzu
I know why the caged bird sings, but why do the painted birds dance? As a matter of fact, why does anyone do anything at all, ever? Understanding human motivation is so perplexing, neuroscientists have been racking their brains for centuries trying to pinpoint the magical reason behind doing (or not doing) something. Dr. Carlsson credits neurotransmitters and brain signals; James Olds talks about fulfilling needs and restoring balance. Either way who can really say what drives human behavior. Why do we chase butterflies? Why do we paint birds on beautiful vases? Whatever the case might be just promise you'll save the last dance for me.
STAT

US
SOLD
. Private collection, Dallas, TX (USA).
EDITION, MEDIA, SIZE & WEIGHT
Unique Edition, Shanghai 2020
RGB LED display, acrylic painting on Plexiglass, teak wood frame
51.5(W)×51.5(H)×5.5(D) cm // 9.2 kg
TECH SPECS
• 1×SLC SD Card
• 4×MWLPV20-5 (INPUT 100~240VAC@0.55A / OUTPUT 5V@3A)
• (3+1 spare)×RGB P4-L830-8S-1921V3.5 / D180526
CRATE SIZE & WEIGHT
65(W)×65(H)×18.5(D) cm // 21.5 kg
EXPOSURE
"
Bright Lights, Flashy Lifestyles
" at island6 Shanghai Main Space
CREDITS
Liu Yuqing 刘宇清 (painting) • Yeung Sin Ching 杨倩菁 (production supervisor) • Thomas Charvériat (art direction & animation)