"
Wichitsongkram Street" (威奇宋卡拉姆街)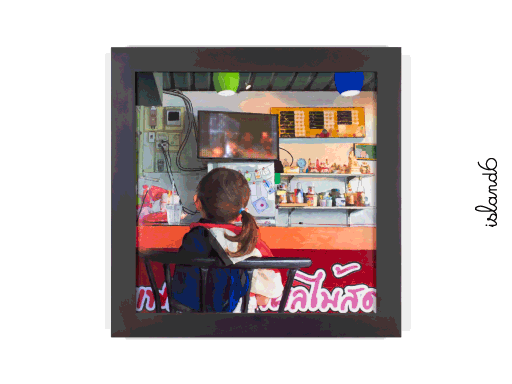 // BLURB //
I've always wondered what the end of the world would look like from my window. The more I was looking at the street and the passing cars, the infinite-looking busy cities and its weirdos, the more I thought this wouldn't go on forever. Every noodle has its end. It could be a long-awaited Judgment Day, or we could all die in a scientifically well explainable manner. Self-proclaimed Media Messiahs predict it every year, whether it be an alien spaceship coming behind a comet or a computer virus that is supposed to destroy civilization in 2000, 2012, 2018… But they are all wrong. I am right. I'm always right in different ways, depending on the view. One of my windows looks out to the West, one to the East. Sometimes I look out to see the mountains and people who fear of the earth. I see oceans and great floods. I see deserts and a barren future. But when I feel out of character, the Sun comes up and reminds me to hit the next level. 
STATUS
SOLD
. Private collection, London.
EDITION, MEDIA, SIZE & WEIGHT
Unique Edition, Shanghai 2018
RGB LED display, acrylic painting on Plexiglas, paper collage, black-stained teakwood frame
52(W)×52(H)×5.5(D) cm // 9 kg
TECH SPECS
• 1×SLC SD Card
• 2×MWLPV20-5 (INPUT 100~240VAC@0.55A / OUTPUT 5V@3A)
• (1+1 spare)×RGB P4-1921-HL3.0 / P4SMD220221-141T/1A/200-A1
CRATE SIZE & WEIGHT
66(W)×66(H)×21(D) cm // 22 kg
EXPOSURE
"
Disaster Diaries
" at island6 Shanghai Main Space
CREDITS
Owen 欧文 (painting) • Zoé Charvériat-Young 杨素儿 (model) • Yeung Sin Ching 杨倩菁 (production supervisor) • Thomas Charvériat (art direction, animation) • András Gál (blurb)