"
Daoluan Doodle Dee Doo" (捣乱)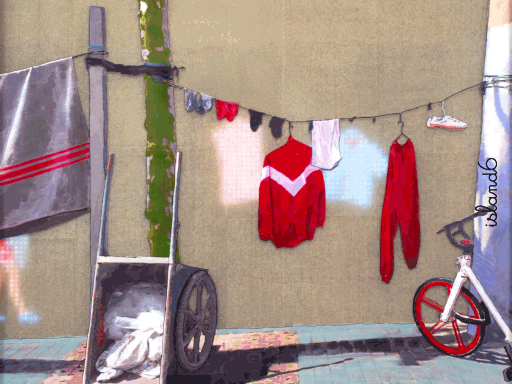 // BLURB //
A blank page. That's what this city is to me in the morning. I wake up earlier than anybody else and keep myself in the zone while the people are asleep. I go out and feel like a ghost that nobody can see. Perhaps they are the ghosts that I can't see. The lights are still out before I step on the stage. As if I were made of light, suddenly I'm the only one that's visible. But this is all too metaphysical. I'm craving for the physical, but whenever I go out to the city, I'm afraid I'll become one like Dürer's Melancholia, an "allegory of deep, speculative thought." Heinrich Wölfflin's description fits both of us well. We are somewhere between reality and dreams. But how do I know if the city itself is part of reality at all? Childish question, the city doesn't exist until I make it. It's a puzzle I must put together, and then it will exist. I have five minutes until the world wakes up. Better be quick.
STATUS
SOLD
. Private collection, Dubai.
EDITION, MEDIA, SIZE & WEIGHT
Unique Edition, Shanghai 2018
RGB LED display, acrylic painting on Plexiglas, paper collage, teakwood frame
52(W)×52(H)×5.5(D) cm // 9.5 kg
TECH SPECS
• SLC SD Card
• 4×MWLPV20-5 (INPUT 100~240VAC@0.55A / OUTPUT 5V@3A)
• 3×RGB P4-L830-8S-1921V3.5 / D180188
CRATE SIZE & WEIGHT
65(W)×65(H)×18.5(D) cm // 21.5 kg
EXPOSURE
"
Disaster Diaries
" at island6 Shanghai Main Space
"
Fathers Of My Father
" at island6 Shanghai Main Space
CREDITS
Owen 欧文 (painting) • Zoé Charvériat-Young 杨素儿 (performance) • Yeung Sin Ching 杨倩菁 (production supervisor) • Thomas Charvériat (art direction & animation) • András Gál (blurb & documentation)