"
Under Certain Circumstances" (在某些情况下)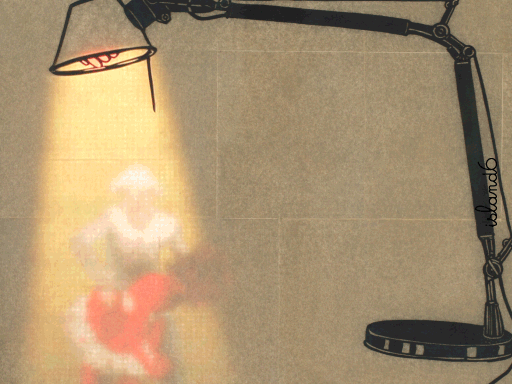 // BLURB //
I work for no man! … because my boss is a woman. It somehow seems better this way. She knows exactly what to say and do to motivate me and the other employees to keep moving forward, especially as this Shanghai weather gets nicer and motivation becomes harder to come by. Maybe we've all just fully taken to our roles, and committed to them against a fear of being "found out."  Like Marina Abramovic said after 
Rhythm 10
 "Once you enter the performance state, you push your body to do things you absolutely could never normally do." It's funny how the pressure of a spotlight can act as a sort of mask, a deep motivator for the "correct" behaviors. It's even funnier how different tones of the light can change which behaviors seem appropriate. Should I kick this crying baby in the head? Usually not. Should I help the old man who has fallen in the street? In most situations, yes. Should I go to work today? Probably. But not always. Only under certain circumstances.
STATUS
SOLD
. Private collection, London.
EDITION, MEDIA, SIZE & WEIGHT
Unique Edition, Shanghai 2019
RGB LED display, Chinese papercut (Jian Zhi 剪紙) on Plexiglass, paper collage, teakwood frame
52(W)×52(H)×5.5(D) cm // 8.55 kg
TECH SPECS
• SLC SD Card
• 4×MWLPV20-5 (INPUT 100~240VAC@0.55A / OUTPUT 5V@3A)
• 3×RGB P4-L830-8S-1921V3.5 / D180264
CRATE SIZE & WEIGHT
65(W)×65(H)×18.5(D) cm // 21.5 kg
EXPOSURE
"
Flashbulb On Memory Lane
" at island6 Shanghai Main Space​​​​​​​
CREDITS
Tang Dashi 汤大师 & He Dashi 贺大师 (Chinese paper cutting 剪紙) • Lena Shchecbakova & Kostya Stepanuyk (performance) • Yeung Sin Ching 杨倩菁 (production supervisor) • Thomas Charvériat (art direction & animation) • András Gál (documentation) • Carlin Reinig (blurb)