"
Vertical Stories" (另一扇窗)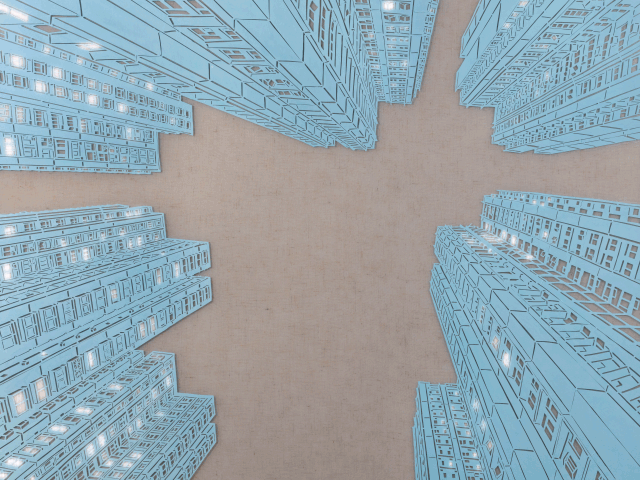 // BLURB //
We eat light, drink it in through our skins. With a little more exposure to light, you feel part of things physically
. -James Turrell
In the 1960s the Light and Space art movement emerged in Southern California, greatly influenced by American abstract artist John McLaughlin. It involved working with non-traditional mediums, such as light, volume, and scale. Artists like Peter Alexander, created immersive visual experiences during this time. Semi-translucent cuboidal shapes made out of resin, changing colors depending on viewer's perspective. A collection of ethereal worlds, optical art, and geometric abstraction. The Light and Space movement continues to inspire contemporary artists like painter and sculptor Casper Brindle and his Aura monochromatic pieces. There is a different type of light show produced by thousands of artists working together, yet unaware of each other's presence. The absence of the sun every evening unveils a million and one lights, igniting Shau Kei Wan. Sky high superstructures glisten and twinkle revealing intimate stories of worlds unknown. Next time you find yourself stranded on the island, take a second to look up and peek into the many eyes of this city. What you find might surprise you.
EDITION, MEDIA, SIZE & WEIGHT
Unique Edition, Shanghai 2021
RGB LED display, Chinese papercut (Jian Zhi 剪紙) on Plexiglass, Vietnamese linen embedded in hand cast resin, teakwood frame
120(W)×120(H)×5.5(D) cm // 43.2 kg
TECH SPECS
• 1×SLC SD Card
• 7×MWLPV-60-5 (INPUT 100~240VAC@1.2A / OUTPUT 5V@8A)
• 1×MWLPV20-5 (INPUT 100~240VAC@0.55A / OUTPUT 5V@3A)
• (14+1 spare)×RGB P5-1921-8S-HL1.0 / S210881
CRATE SIZE & WEIGHT
135(W)×135(H)×21(D) cm // 86.5 kg
EXPOSURE
"
Bit By Bit
" at island6 Shanghai
CREDITS
Tang Dashi 汤大师 & He Dashi 贺大师 (Chinese paper cutting 剪紙) • Yeung Sin Ching 杨倩菁 (production supervisor) • Thomas Charvériat (art direction) • Tiara Alvarado-Leon (blurb)